Workplace Mediation
Our workplace mediation service is specifically designed to help when difficulties have arisen in the workplace. We are here to answer your queries about how we can help move things forward, when things have become problematic and what strategies might be used to prevent further difficulties occurring.
We understand that it is important for Employers, HR Managers and Employees to have the right environment to address tricky situations, quickly, with clarity and sensitivity when they arise.
What is Workplace Mediation?
Workplace Mediation is private and confidential process which can benefit every part of a business. It is a process where two people can communicate in a confidential environment with the impartial guidance of a mediator.
Workplace or employment mediation is a voluntary process but does require both parties to agree in the first instance, to discuss and resolve the disputes at hand in order for the mediation process to be effective in reaching an amicable agreement at the end of the process.
Our professional employment mediators can oversee the process and give advice when required in order to help the workplace mediation process reach a conclusion that suits both parties.
What are the benefits of Workplace Mediation?
The process can help the parties involved to develop better communication skills between each other, enabling the individuals involved to discuss and express their concerns in a safe and informal environment that may otherwise have been disruptive and seen as unprofessional to those who may have witnessed the broken relationship.
The Individual Session
This is a chance to talk in private, in confidence. To perhaps raise difficult issues or talk about troubling concerns. This is an opportunity to clear the air and get things off your chest.  This often helps people get a better perspective on their situation.
You will be able to talk about what you want to achieve and, how to go about that. We will not advise you, nor will we discourage you from any course of action. We will help you think through the pros and cons of any choices you have in this situation and, whether they satisfy your interests and needs.
We will help you think clearly; this is a chance to make decisions with someone that has no bias or stake in the outcome.
The Mediation Session
This is a structured process where you have a chance to be heard and listened to by others. It is also a chance to listen and understand the person you have difficulty with.
The opportunity here to say what you want and the need from someone and to help them understand why that is important to you.
This involves speaking openly, honestly and directly with feeling. The opportunity here is also to try and understand what is important to the other person and why that might be so.
This involves being willing to hear someone out, holding on to your own reactions and suspending your judgements.
This means listening carefully. At best this means trying to put yourself in the other person's shoes and seeing it from their side. We will ask them to do this for you. We would be asking you all to do this for the other.
Once each person feels they have said all they need to say and that is understood by the other then, we can begin to talk about how to move forward.  Here, we will help you work together to try and find different ways of moving forward.
Importantly this will mean trying to think differently and create new and different ideas to help you all move forward.
Towards the end of the Mediation Session, we will aim to build on any progress and encourage you or to recognise what has been of value for yourselves and each other.
Finally we will help you to practically test any outcome or resolution, checking that all are satisfied with both process and outcome.
Outcomes of Workplace Mediation
Mediation offers a range of outcomes including:
Raising and clarifying issues.
Redefining problems jointly rather than individually.
Achieving an appreciation of differences.
Understanding the impact and effect on each other.
Achieving a better understanding of each other and some new perspectives.
A compromise – a good enough improvement.
Repairing and rebuilding working relationships.
Win-win outcomes – an outcome that changes how you see the situation and offers value for both.
Complete transformation of the relationship.
There is always potential to change situations for the better. Often people come to a Mediation to resolve seemingly impossible situations. Mediation is a powerful opportunity for progress.
Many of these will feel impossible at the moment the opportunity to change things for the better by Mediation is something you may wish to consider and discuss with your Mediator.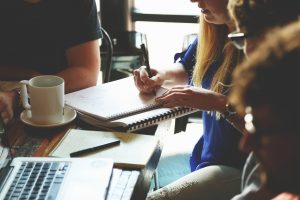 What is our role as a Workplace Mediator?
The Mediator in a Workplace Mediation, acts as an impartial facilitator to help those involved find their own resolution to their particular situation.
The Mediator provides a confidential and independent process.
The Mediator will not advise, judge or decide matters for you. The Mediator is skilled in negotiation, communication and conflict resolution. A Mediator's expertise is in helping people find better ways of handling differences and agreements.
When is the best time to mediate?
The right time to mediate is when a party identifies a breakdown in communication, cooperation and/or understanding which is affecting their ability to carry out their role within the workplace. Timing can be very important.
If Workplace Mediation is offered once initial difficulties have been identified, this may make it easier for the parties to discuss their difficulties.
Often Workplace Mediation is requested when problems in the workplace have been left unaddressed, matters may have escalated to the stage when an investigation has been undertaken, leading possible to a disciplinary outcome or at the very least a very uncomfortable working environment for the parties involved and those around them.
In the case of the former, Workplace mediation is a chance to look at the issues and find different ways of resolving these to enable parties to work together in a harmonious and effective manner. Often strategies are adopted to avoiding problems occurring again and/or escalating.
In the case of the latter, where there has been a formal complaint, investigated (either within the organisation or externally) and determined, Workplace Mediation is an opportunity, to help restructure, rebuild and refocus the parties on their specific roles and reform appropriate boundaries, enabling them to work within their organisation,perform their role alongside their fellow co-workers.
Where does workplace mediation take place?
Depending on specific circumstances, it is possible for a Workplace Mediation to take place either at the place of work, provided suitable arrangements can be made after discussion ,by the Mediator with each party and the employer.
Alternatively a Workplace Mediation can be conducted "off-site".
We have a number of Mediation and meeting rooms which are designed to enable parties to meet for either a half or full day within our offices.  We have the facilities to cater for both face-to-face and shuttle (separate rooms) meetings.
How long does mediation take?
Workplace mediation usually takes either a half or a full day depending on the issues raised by the participants or, it may depend on the number of parties taking part in the mediation process meetings.
The length of time taken in any mediation process also depends upon the parties, the pace at which they are able to work and the speed at which the necessary and appropriate advice and documentation can be accessed during the course of the mediation.
Very broadly the litigation processes can take between six months and eighteen months, whereas a typical Mediation process takes approximately two to four months. Some civil mediation matters can be resolved in a day's mediation.
Confidentiality
Before a Mediation Session takes place each participant is asked to sign an Agreement to Mediate.  This agreement confirms each party's understanding of the Mediation Process and their agreement to its principle and ground rules.  This is an agreement in good faith.
Please note that the Mediation Process is private and confidential.
The Mediator will provide a copy of the Agreement to Mediate to each participant prior to the process commencing.
Feedback to Employers
Once the Mediation has concluded the Mediator will make a brief statement (verbal or written) to the referrer or purchaser of the Mediation Services.  This will be a process statement.  It will not include any contents or anything that was said in any part of the Mediation Process.
The statement will include a list of names of those attending, the dates of meetings and whether a resolution was reached or not.  It will note whether the situation was resolved or unresolved.  The Mediator or participants are not called as a witness or give evidence or make representations in other formal, administrative, arbitral, or judicial procedures.
Prior to any Mediation taking place the Mediator will have to undertake an Assessment.
The Assessment is to deal with two issues:
Each participant's willingness to engage in a Mediation Process. Mediation is a voluntary process. Unless both participants are willing to engage in a Mediation then the process cannot proceed.
Assess the suitability of the parties and also the subject matter for the Mediation Process. The Mediator will determine themselves whether they feel the Mediation process is suitable, whether the parties are willing and the appropriateness and timing of any meetings. There are certain circumstances when a Mediator may decide that Mediation is not suitable. They are not required to disclose the reason for their decision they will however inform the parties of their decision and suggest other ways in which the matter can be resolved, where appropriate.

Workplace mediation Stages
Individual private meetings
A workplace mediation Session with all concerned.
Individual Sessions
As a first step, the Mediator will talk with you privately and individually. The Mediator will listen to your concerns and answer your questions about the process and explain how the Workplace mediation helps to resolve conflicts.
Joint Session
The Mediator will bring participants together to talk, listen and collaborate. The Mediator will ensure that each person feels able to say all they need to say.  They will work to ensure a better understanding between you.  The Mediator will help you work on any obstacles to communication and cooperation.
We have prepared a pack which will help participants and also referrers and HR Departments. You can download the pack by clicking here.
The packs cover:
An outline of the Workplace mediation Process with its clear steps and stages.
Participants preparing themselves for Workplace mediation: questions they might wish to consider in order for each individual to get the most out of their opportunity to mediate.
If you require any more information regarding our Workplace Mediation service, please take a look at our Workplace Mediation FAQ's that can answer any questions you may have.
Who pays for Workplace Mediation?
A Workplace Mediation is funded by the employer.
Get in touch with our Workplace Mediation specialists
Feel free to get in touch with us by phone, email or simply fill out our contact form.
If you would like to talk with one of our professional family mediators, please feel free to call us at one of our five offices at Mansfield (01623 706020), Nottingham (0115 7043388), Derby (01332 372311), Chesterfield (01246 386322) and Matlock (01246 386322).